y este es un caso ejemplar.....

October 11, 2005
As watches goooooo, it wasn't anything out of the ordinary.
Actually, it was.
"I broke the glass face of my watch while filing papers just now. I've been wearing that watch almost continuously for 12 years and I tend to forget that it's on me, so when I leaned my left arm against the metal wall of the filing cabinet to make some space for new files, I wasn't really thinking about the combination of metal, glass, and pressure. When I pulled out my hand to see what that crackly noise had been, voila, my round watch had reinvented itself as two half-moons, one slightly crescent and one slightly gibbous.
By my count this is at least the third time I've found myself sans watch face. It fell out once, and I found it two days later in the kitchen and stuck it back in. It fell out again, so I glued it down with Krazy Glue. At this juncture I'd be tempted to get a new watch, with either a plastic face or better glue, were it not for two things. One, it's twelve years old and I'm only 24. I saved up a year's worth of allowance in junior high to buy it from my favorite New-Age mystical crap catalog. Two, and this will explain why it was in a New-Age mystical crap catalog, it's usually the weirdest watch that any given spectator has ever seen. It's one of those graphic digital watches that shows the time by displaying something -- lines, dots, alligators, whatever -- to mimic the positions of analog clock hands. In this case it's stars and moons. Yep. Stars and moons. And Saturn, and a comet, and some kind of radiating sun thing, and then the minutes in dorky square un-New-Agey numbers in the middle. All of this sits in the middle of the biggest, clunkiest, heavy dark grey watch casing that 1993 could come up with. The grey was paint, though, as I've discovered in the process of wearing it unevenly off. Aaaaand to make it even better, I've also worn out the original leather watchband and replaced it with a black plastic one made for something much sportier.
I could have summed up the entire foregoing paragraph by saying, "it's kind of old and strange," but I don't think it would have been sufficient. Because now, you see, you'll have a much better picture of my weekend task, which is to find a jeweler who can be convinced to work on it. Really. Just try to imagine."
Posted by dianna at October 11, 2005 11:40 AM "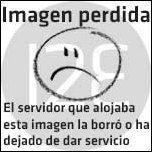 12 años!!! la mitad de la vida de esta persona.......

Sin palabras...